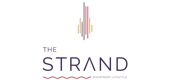 Your Review
Submit a Review

Resident Reviews
|Recommended: YesThe Strand is a wonderful place to live. — Compared to other properties in the area, The Strand knows how to treat their residents. I do not feel like a number or another monthly check the understand the importance of making residents feel at home. Everyone is very helpful and professional. I have a demanding job and appreciate the fact that the staff goes out of their way to assist with my needs.
|Recommended: YesLove this property — Great Property Staff Great Maintenance Staff
|Recommended: YesFriendly — Everyone is very friendly.
|Recommended: YesAbsolutely Love It — It is truly like living on a luxurious vacation - views are hands down the best in Jacksonville, maintenance concierge is extremely helpful and friendly, beautiful building. Only downside is guest parking but its downtown so that's to be expected. Overall 10 10 would absolutely recommend
|Recommended: YesGreat Luxury Apartments — Parking is tough in the parking garage, especially if you have a large truck, but it is safe and secure off the street if you're able to fit into your spot. All staff is exceptionally kind and professional and makes the experience very enjoyable
|Recommended: YesThe Strand is so nice — I love the view and location
|Recommended: YesWonderful property... — Highly recommend it, amenities staff are fantastic
|Recommended: YesThe Strand - A GREAT place in Jacksonville to live — The Strand has the MOST AMAZING RIVERFRONT views that we enjoyed from our porch high above the Jacksonville Skyline with the river right below us. The fresh breezes on our deck were just what you need after long day. Our stay here was Top Rate with the entire property staff willing and ready to accommodate our needs. The parking was very simple, the elevators were fast, traveling at a second per floor they got us to our apartment home quickly. We also enjoyed the lobby area with nice slate pool table and living room fireplace, we actually entertained our friends there in the quite luxurious common area . Our few maintenance issues were ALWAYS taken care of the very next day I had NEVER had such attentive, qualified and courteous maintenance staff anywhere else I had stayed. The manager was always extremely helpful and her staff treated us more like family and valued guests than mere renters . Unfortunately, as job needs changes so do locations and we had to leave this beloved spot on the St. John's river. But I have to say, it was the most wonderful apartment I had ever lived in and I was very sorry to leave. I will never forget those HUGE windows looking out to the riverfront and the fabulous skyline, and the 12 foot ceilings and ice cold air conditioning to fend off the Jacksonville summer heat, it had an excellent layout. The rent was reasonable and the people were GREAT. I miss The Strand, it was more than an apartment, it was Home.
|Recommended: YesThumbs up — The view and location.
|Recommended: YesVery satisfied — Very comfortable living. All the staff has been above and beyond expectations.
|Recommended: YesAbsolutely Fantastic — Living in a up 5 star resort. Staff 24 7. Always cleaning and helping others. Thank you.
|Recommended: YesI am enjoying my new home in Florida . I know , this is the best place for me — If you are looking for a place to call home....you will love this place
|Recommended: YesVery happy overall at the Strand, less so for the parking. — Overall impressive, spacious rooms, well-maintained and great views of downtown. Leasing Office is very pleasant and attentive. I feel mostly secure in the garage and building - especially from 6AM until 9PM, 100 secure in apartment. Parking spots are about 6 inches too narrow for bigger vehicles vans, mid-large SUVs, trucks - would be better if both my parking spots were adjacent to one another.
|Recommended: YesGreat Place to Live — I have only been three weeks and I love it already. Great place to relocate at. I'm sure when all of this social isolation is over I will have so many praises to send. Stay safe